by Jules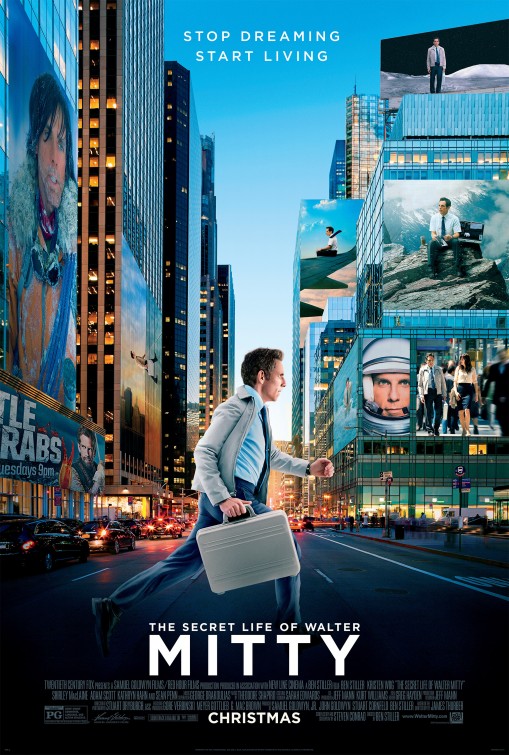 To see the world, things dangerous to come to, to see behind walls, draw closer, to find each other, and to feel. That is the purpose of life

.

-Life Magazine's motto

Okay, so I love this movie. I really love this movie. I first saw it in the theatre with my family. We were planning to see Frozen, but it was sold out. So we went to see this one. I had no idea what this movie was going to be about or what it was. So we find our seats and sit down. Munching popcorn as the lights dim. The first surprising thing about this movie is the director. Ben Stiller? I didn't even know he did that! I thought this movie was just going to be some dumb comedy at that point. Don't get me wrong I love a dumb comedy as much as the next guy, but I kind of wanted something with more heart and I got it.
The Secret Life of Walter Mitty is about a man who is a dreamer, with his head always in the clouds. He works as a negative asset manager for life magazine and in the beginning of the movie Walter gets a roll of film from a photographer named Sean O' Connell saying negative number 25 is the "quintessence" of life and it should be used for the last issue of life. He can't find number 25 and he goes all around the world to find it. The movie is actually based off a short story by the same name and there was another movie by the same name made in 1947.
One the big reasons I like it so much is the traveling aspect of it. Since I can remember I've always wanted to travel. It's a huge dream of mine to see the world. I want to experience the culture, see the scenery, eat the food! I want the adventure. The plot line is good and the movie leaves you happy. I also love the beautiful scenery, which the movie flaunts perfectly they do a good job showing people too. What the world is like. I also like the soundtrack which features my favorite band Of Monsters and Men. Their song Dirty Paws plays when Walter is in Iceland which is where the band is from.
I've read quite a few reviews on this movie, Rotten Tomatoes gave the film 50%, while IMDB gave it a 7.4, on Metacritic the critics gave it a 54 (out of 100) and users gave it a 7.6, Pluggedin gave it a 4/5, so the movie has mixed reviews. I'm not saying this movie is like the holy grail of movies or anything, but I think its worth watching and maybe you will too.